upcoming artist workshops:
---
Contact Patricia for more information and registration for all workshops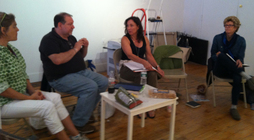 professional critique course
For artists looking for rigorous, critical feedback in a professional environment of artist peers. Artists bring work to the gallery each session. We spend 30-40 minutes with each artist's work, in serious discussion and supportive critique. This is a professional level critique for artists looking to push their work forward.
Amazing things happen here! Led by Patricia Miranda

New groups begin September 2016
5 sessions $500. Max 6 artists per group.
Check back soon for dates.

---
professional practice
Workshop your artist statement, organize your documentation, files and images, learn how to prepare a drop-dead portfolio, research opportunities and more. We will cover a lot of ground in a short time. Artists should bring a laptop and files of artist statement, image portfolio, cv, or hard copies and pen and paper. You will get a list of specific info to bring before the workshop.
Hands-on and info heavy!
Led by Patricia Miranda
Session I: Tuesday May 17, 2016
Session II: Tuesday May 24, 2016
10am-2pm
$100 session.
---

Paint Explorations with Natural Dyes and Pigments
Castle Hill; Truro Center for the Arts
August 22-26, 2016. 9am-12pm
Join me on beautiful Cape Cod for a 5 day exploration of natural color!
An immersive and exploratory workshop creating paints from natural dyes and pigments, including minerals, bugs, and flowers, and employing a variety of water-based paint binders, grounds, and techniques. We will explore both creation and use of a variety of natural colors, such as malachite, cochineal, purple iris flowers, buckthorn berries, indigo, and oak gall with a focus on their uses in painting; supports including a range of hand and machine-made papers, panel, fabric, and canvas; and water-based binders such as gum arabic, rabbit skin glue, PVA, egg white and egg yolk tempera.
Visit the
Castle Hill website
for registration and info.
---
Community St John the Baptist
Painting Retreat
For many years I have been leading painting retreats at Community St. John Baptist, a lovely Episcopal convent monastery in Mendham NJ. The workshops take place in the historic retreat house, and include room and board. The nuns are wonderful, and the order has a history of liturgic arts, an amazing library, wonderful art, and beautiful grounds. Check back for upcoming workshops.
See more info about the workshop and the convent at their website
www.csjb.org
Workshops may also be arranged anytime and anywhere for groups of 5 or more. I can travel to your organization, studio or community and develop a program tailored for your needs.
other educational opps at MAPSpace studios
Email
if you are interested.
Open Figure Drawing Sessions
Portfolio Reviews
Intro to Aural Electronics for Artists with Christopher Kazcmarek
Painting Methods with Patricia Miranda