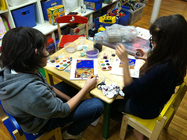 Unique and Curriculum-focused
Hands-on Art Projects!


making paints from stones, bugs and flowers
See Alchemical Tech for more information on educational programs.
Programs are custom-designed to be appropriate for any institution, community, age or activity. The focus can be historic, scientific, artistic, or an integration of all, while always participatory, interdisciplinary, and hands-on. Making connections to museum exhibitions, school curriculum, or community programs is our specialty. Kits for educators are also available. All materials used with young people are non-toxic with normal use. Participants in every workshop create a unique handmade artwork to take home using historical materials.
Patricia Miranda has 20 years experience developing sophisticated, experiential, hands-on art programs connecting art, history, science and more.

Email
me for more information...