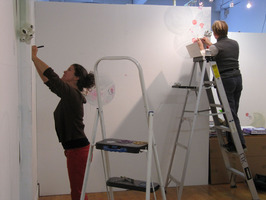 Interplay: A collaboration with Beth Dary and Sarah Lutz
he New York Times features the exhibition on January 6, 2013! See article here.
Many thanks to Tammy La Gorce for her wonderful article.

Gallery hours during the exhibition are Wednesday through Saturday, 12-5 pm, all other times by appt.
Join us for a closing reception with the artists
Saturday, January 19, 4-6pm.

Exhibition on view through January 19, 2012
Artist Talk and Reception Saturday, November 17, 5pm
See the collaborative suite of drawings the artists created during the residency HERE.

Watch the gallery talk here.
Read the Residency Blog here.

Dary and Lutz collaborated on a beautiful, introspective installation centered around the essential resource of our local waterways. The residency began with a mapping of the Byram River on the gallery walls, marking rising water levels- past, present and projected.

A week later Hurricane Sandy hit. Beth Dary wasdisplaced (continuing to create in her hotel room), and the gallery lost power for a week. The project took on a new and poignant urgency.

A question arose- can art contribute to the larger dialogue about pressing issues of our time? This exhibition and residency thoughtfully considers how art can bring- if not outright solutions- creativity, innovation, and beauty to the challenges of our day.

The artists said: We were thrilled to be awarded the first MAPSpace residency and to have the opportunity to work together to create this installation. Little did we know that Superstorm Sandy would directly impact our lives, communities, and the residency. Because we lost a full week of work, the experience of creating the installation was condensed into three weeks and added a heightened level of immediacy and urgency to the collaborative process and the finished work piece.

We made the decision in the second week to create a suite of collaborative works on paper; we titled the series Surge to make clear the connection. We feel this project has two to conceptual ideas- about water and the environment, and how we all are directly impacted by the natural world.

Both artists have a deep affinity with nature originating from their lives spent on the water both in New York City and Cape Cod. This common ground informs the distinct, yet related vocabularies found in their work and provides them with a mutual language to articulate the discoveries that are bound to manifest as they work side-by-side. Dary and Lutz are intrigued by the notion of a collaborative residency— not merely a shared space but a truly collaborative, creative process where each is responding to their own last mark as well to each others', ultimately creating a call & response dynamic much like a jazz ensemble.

Beth Dary's recent projects include, Equilibrium, a series of blown glass sculptures in the lily pond in Battery Park City and, Full Service Island, a collaborative multi-channel video installation at a service station in Manhattan. Both installations reflect on the fragility of the natural word. At MAPSpace, Dary was particularly interested in the community/local aspect of the residency and responded to the location and population through through sculpture, drawing, and sound. Imagery she considered included local waterways, runoff and local maps resulting in an installation that combines the urban and natural environment conceived in response to Lutz's work.
Sarah Lutz employs an additive, fluid, and responsive process to build paintings and drawings that feature clusters of forms suggesting habitats of profuse growth. Her most recent body of work, The Cenote Series, was inspired by snorkeling in sink holes in the Yucatan, Mexico. At MAPSpace she was eager to expand beyond the confines of paper and canvas to work directly on the gallery walls with a variety of new materials. Lutz was excited by the possibilities of this collaborative work being a dialogue or visual conversation between herself and Dary.